Mission: Eddy House works with homeless and at-risk youth to develop life and job skills necessary for sustainable independence.
Objective: End youth homelessness in Northern Nevada
Eddy House is a center for homeless, runaway, foster, and other at-risk youth. We are the central intake and assessment facility in Northern Nevada. Youth have access to resources for basic needs such as food, clothing, hygiene items, and a safe secure place to be during the day. Eddy House also offers counseling services, work force development, life skills groups, health care services and more. The new 24-hour facility now provides safe overnight opportunities for the homeless youth in our community which includes an overnight shelter for up to 20 young adults, a five-bed emergency shelter, and a new results-oriented "Community Living Program" for 23 youth.
Eddy House was founded in 2011 by Lynette Eddy. Eddy had gone back to school and was studying for a Master's degree at the UNR School of Social Work when as part of a school project, she decided to order a pizza and conduct a focus group at an area downtown known as "the Circle." That afternoon, surrounded by hungry teens, Eddy heard the personal stories of the young people living on the streets of Reno and decided to take action.
Five years later, thanks to an initiative put forth by the Community Foundation of Western Nevada, the Eddy House has morphed into a drop-in resource center for Northern Nevada's homeless youth.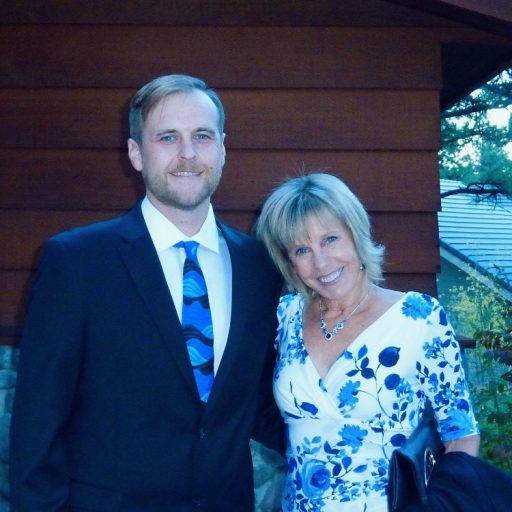 Founder Lynette Eddy and her son Brian Eddy
Since 2011, Eddy House has provided resources towards stabilizing youth who have experienced homelessness and/or are considered high risk. Our population includes those who have been in foster care, are runaways, or have been forced out of their home situation. We continue to strive with our provided services to end youth homelessness in Northern Nevada.
No one who comes to Eddy House for assistance is turned away as we understand our role in eliminating the factors that lead to homelessness in our community.  From 2012-2019, Eddy House functioned as the safety net for this population, assisting homeless and at-risk youth in crisis in Washoe County to secure a helping hand, a hot meal, a shower, or a connection to other services. In November 2019, Eddy House's management was restructured, and, with the generous support of the State of Nevada, multiple private foundations, individual donors, and contractors, the organization purchased and moved into a 16,335-square-foot, two story former commercial building located between downtown Reno and Renown Medical Center. The facility has been fully renovated into client spaces, a drop-in shelter, transitional housing, community rooms, and administrative offices. The larger facility will allow Eddy House to deepen and broaden the services it offers, fulfilling its mission by expanding from being a walk-in center to becoming a full-service recovery provider for at-risk youth aged 18-24.
January 1st, 2020: Eddy House was a drop-in resource center on 6th street. Monday through Friday 10am-5pm, homeless and at-risk youth could stop by to get resources and hangout in a safe place during the day. On Friday nights, the youth were given food and resources they needed to get through the weekend until doors re-opened on Monday morning.
January 30th, 2020: Eddy House moved into a 16,000 square foot facility to expand our services for to 24 hours with overnight opportunities to get youth off the street. The new Drop-in Resource Program provides youth with a safe place not only during the day, but also a safe place to sleep through the night. Youth can access food, clothes, showers, and additional resources. The results-orientated Community Living Program provides youth with the opportunity to live at the Eddy House facility, giving them a stable place to live while they navigate jobs or school without having to worry about where they would sleep that night. With this new facility comes case managers, therapists, workforce development, life skills groups, and classes to help the youth reach a state of sustainable independence.
July 2020: The Ryland House opened and was occupied by our first group of young men after completing our Community Living Program. A step closer to independence, the men who live here are working or going to school, paying rent, grocery shopping, and cooking for themselves. While meeting with their case managers and therapists, these youth are learning vital skills to successfully live on their own.
July 1st, 2020: Casa de Vida was welcomed into the Eddy House family, providing additional resources to young pregnant woman in the community. With beds for 8 women and babies, Casa de Vida provides a safe place for expecting mothers, giving them a chance to get back on their feet while learning how to care for their newborns. With this new program comes an additional transitional home for females in our community. Giving them a safe and stable place to live while helping them reach their goals of independence.
August 2020: Eddy House Hope Home, a partnership with the county and Grace Church, opened to provide a new 24 bed facility for males and females who need housing assistance. The least structured of our programs, Eddy House Hope Home provides a dorm style living environment to youth on a sliding fee scale. This program is the final step before complete independence.
Over the past year, Eddy House has expanded our services to 24 hours, providing never ending support to homeless youth in the community. With a drop-in resource center, overnight facility, Casa de Vida, Hope Home, and two transitional houses, Eddy House is striving to end youth homelessness in Northern Nevada. The pandemic impacted our program with slight changes to programming and how services were given, but our doors were never shut to the youth in our community who needed us. Even with a few road bumps throughout COVID-19, Eddy House has seen several incredible success stories in these past 9 months, and we are just getting started. Eddy House is getting ready to launch a new outreach initiative to spread awareness of Eddy House and to reach more youth in need. This program will allow Eddy House to travel around Northern Nevada to assist more homeless and at-risk youth.