Mission: Eddy House works with homeless and at-risk youth to develop life and job skills necessary for sustainable independence.
Objective: End youth homelessness in Northern Nevada
Eddy House is a center for homeless, runaway, foster, and other at-risk youth. We are the central intake and assessment facility in Northern Nevada. Youth have access to resources for basic needs such as food, clothing, hygiene items, and a safe secure place to be during the day. Eddy House also offers counseling services, work force development, life skills groups, health care services and more. The brand new 24-hour facility now provides safe overnight opportunities for the homeless youth in our community.
At that time, the organization purchased a residence to house former foster youth who were living on the streets of Reno, after having aged-out of the foster care system. In 2013, the Community Foundation of Western Nevada launched the YOU' N I Initiative and orchestrated a convening of more than 200 service providers and youth who have experienced homelessness and/or who have been in the foster care system, to explore the needs of homeless, runaway, foster, and other at-risk youth in Washoe County. Together, they determined the need for a centrally located walk-in center, where youth could access basic-needs services and connect with service providers, to increase long-term stability for homeless youth.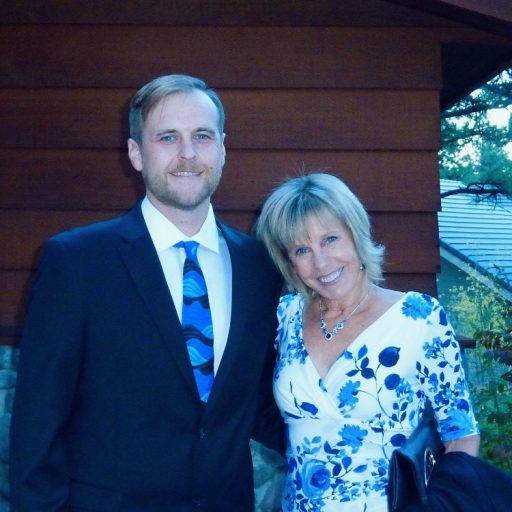 Founder Lynette Eddy and her son Brian Eddy
Two years ago, Eddy House hired Michele Gehr as its Executive Director, to provide excellence in leadership for the growth and expansion the organization envisioned and is currently experiencing. Gehr is well-equipped to take on this challenge. She worked with underserved, marginalized youth affected by poverty, violence, and trauma in the South Bronx, New York. While living in New York City, Gehr earned a Master's degree in Social Work (International Social Welfare) at Columbia University, as a Management Fellow, which is an exclusive course of study focused on nonprofit and public management. At Eddy House, Gehr has built a new, more involved board of directors, written and implemented all new programing, collected data, and created financial sustainability and organizational transparency. Gehr envisions Eddy House and its coming expansion as poised to become a national model on solving youth homelessness. Gehr is supported by able staff, a strong board of directors and an enthusiastic community to make this vision a reality
Eddy House is the central intake and assessment facility in Northern Nevada. The objective of the Eddy House is to end youth homelessness in Reno, Nevada. To accomplish this, we identify homeless, at-risk, and aged-out foster youth through extensive outreach in Downtown Reno.
Eddy had gone back to school and was studying for a Master's degree at the UNR School of Social Work when as part of a school project, she decided to order a pizza and conduct a focus group at an area downtown known as "the Circle." That afternoon, surrounded by hungry teens, Eddy heard the personal stories of the young people living on the streets of Reno and decided to take action.
Five years later, thanks to an initiative put forth by the Community Foundation of Western Nevada, the Eddy House has morphed into a drop-in resource center for Northern Nevada's homeless youth. Young people, ages 12-24 are welcome to come by for care and comfort services such as: showers, food and clothing. Youth know staff by name and a Crisis Manager provides light case management and referrals to community agencies who work closely with the Eddy House.
The biggest hurdle we face is the lack of affordable housing in Reno. Youth are homeless for very different reasons than adults and research shows that the two populations should not be housed together. Our future plans will expand to include a 24-hour Drop-in Resource Center in Downtown Reno. Read more about our 24 Hour Center.
We plan to give office space to contracted vendors who provide services to our youth so they may be more effective. For example: Examination rooms will be available for our Community Partners in Health as well as STD testing.
While our programming has been effective, we have found that our youth leave the current drop-in center each night and return to the streets to be re-traumatized. In June, 100% of our youth reported that they were assaulted at least once per week on the streets. Those who have secured employment have difficulty maintaining that employment without a safe place to stay at night. With wrap-around services provided on-site, youth will learn the basic living skills they need to become healthy, productive members of society.